Metta Yoga Teacher Training
TBD details coming soon!
Metta – means benevolence, loving-kindness, friendliness, good will and genuine happiness of all beings, without exception. We are a community driven yoga studio committed to growing our collective. Our teachers are dedicated and our studio is authentic.
200 hour METTA INTENSIVE
Accessibility is our core value. Metta instructors offer simple and intelligent techniques with accessibility at the forefront of our classes. The Metta Yoga 200 hour Teacher Training Program is geared towards anyone who would like to deepen their personal yoga practice, harvest greater self-awareness, learn the art of effective, concise and powerful teaching, as well as diving into Yoga History and Philosophy. The groundwork we complete at this training will provide experiential growth for teachers to emerge as dedicated students for their life and their teachings on and off the mat. This teacher training invites each student's unique voice, strengths and experiences to foster their growth to becoming authentic yoga teachers.
The key ingredient to setting our Metta graduating teachers up for success is built around the evolution of the Metta Yoga sequences. The Metta Yoga 200 hour teacher training emphasizes a foundational yoga practice based in alignment and anatomy, linking yoga principles and philosophies.
You will walk away with the ability to teach smart yoga sequences with a strong foundation in teaching methodology, anatomy and alignment. In addition to the physical aspects of yoga, you will learn trauma informed teaching, yoga philosophy, yoga history, meditation, chanting and pranayama.
ASANA
Daily Practice & Meditation – Our 200 hour intensive training includes a balance of daily asana practice and meditation. If this is your first time meditating don't be intimidated! This is an introduction to meditation, a great way to unplug and connect to yourself. The intensity of a daily practice will help your mind and body gather all the information of this training on and off your mat. Your practice is an extension of your teaching.
PRACTICE TEACHING
This is your chance to share your voice. During this training, you will have ample opportunity to teach a sequence of poses to fellow trainees in order to gain experience standing in the "instructor role".
Coaching is provided throughout the course to emphasize the confidence you will gain and provide the support required to continue your journey after this training. The Metta 200 hour teacher training provides an environment for you to lead a strong, safe and accessible yoga class.
YOGA HISTORY & PHILOSOPHY
Yoga postures are just the tip of the iceberg. There is so much more to discover and learn in your yoga practice, which we will explore during this training through the subjects of yoga history, philosophy and more.
METTA INSTRUCTOR ROSTER
Angela Zawada, Yoga Alliance E-RYT® 500
Brandi Wilson, Yoga Alliance (YA ID 303873) E-RYT® 500, YACEP®
COURSE CURRICULUM
Basic and Functional Anatomy
Teaching Methodology
Practice Teaching
Sequencing (Metta Sequences)
Posture/Alignment Workshops
Verbal and Hands-on Adjustments
Mental Well Being
Trauma Informed Teaching
Yoga History & Philosophy
Meditation, Pranayama & Chanting
Business & Ethics of Yoga
PREREQUISITE
A dedicated yoga practice.
CERTIFICATION
Requirements:
Must attend all lectures and practices during the intensive; modifications encouraged so all practices can be attended by all practitioners
Complete distant learning projects post intensive
Come with a 100% open mind and heart to absorb all the goodness this training will bring
Upon completion of the above each participant will receive their Yoga Alliance certified 200 hour Metta Yoga Teacher Training Certification
PERSONAL INVESTMENT
$3500 +gst
EARLY BIRD PRICE $3250 +gst (new date coming soon)
Early bird payment plan available of 3 equal instalments; no exceptions; must contact studio to register this option.
CANCELLATION POLICY
50% refund policy 60 days prior to start of training
Cancellations made within 30 days prior to training will not be eligible for refund
INSTRUCTOR BIOS
Angela Zawada
Angela Zawada is the founder of Metta Yoga Edmonton and the super fun mom of two young boys.
After growing up on a tobacco farm in Ontario, Angela moved to Edmonton to play volleyball with the University of Alberta Pandas.
After a degree and three national volleyball championships, she turned to yoga to keep her body and mind in shape.
She's turned her passion for sport, sweat, and fun into a successful community of yoga studios in Edmonton and Calgary.
Prior to launching Metta Yoga, Angela was a leader in Canada's Moksha / Modo Yoga community. During her time with Moksha / Modo, Angela co-created the flow sequence with Dina Tsouluhas. Angela and Dina also teamed up with Canadian yoga legends Ted Grand and Jessica Robertson to lead Moksha / Modo flow teacher training.
Angela has taken numerous trainings with leading instructors, including:
Moksha / Modo Level 1 in Thailand;
Moksha / Modo Level 2 & Yin in Toronto;
Baptiste Level 1 & 2 with Baron Baptiste;
Art of Assisting with Paige Ellison,
Rocket Training with David Kyle (x 2); and
Kula Training with Schylar Grant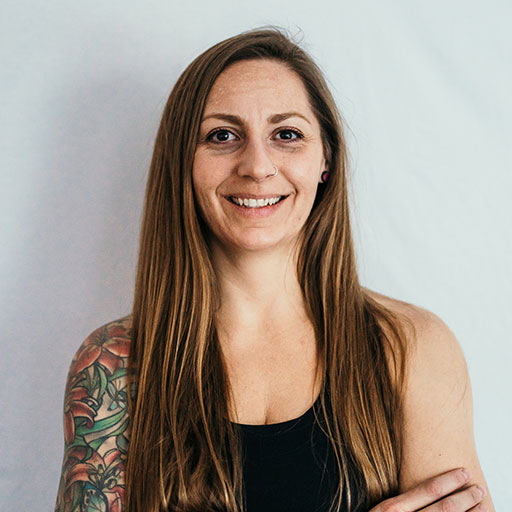 Brandi Wilson
Brandi Wilson (owner/director of Metta Hot Yoga Calgary) does more than teach yoga and run the show at Metta Yoga YYC. She has been practicing yoga for 20 years, teaching for over 10 of those years, and is obsessed with creating community and developing yoga teachers and students.
Her journey started in early 2000 with a strong dislike of gyms and workouts and was searching for an outlet to get healthy (and happy). Enter yoga! She stumbled across a yoga DVD, began practicing in her living room, and fell in love with the strength, mindfulness and results she experienced. Brandi's natural desire and need to connect with people brought her out of her living room and into the yoga studios, where she serendipitously came across Moksha Yoga Edmonton and met the owner Angela (now business partner and best friend). There was no looking back – she was hooked and found her true calling.
Brandi took her first teacher training in Kerala, India in 2009. She continued to attend trainings and receive certificates in Vinyasa and Yin yoga throughout the years. From the beginning, Angela of Moksha Yoga Edmonton (now Metta Yoga YEG) worked with her through practice teaching classes and community classes, patiently guiding her to find her voice and confidence in teaching. Fast Forward to 2010/2011, Brandi quit her corporate job to teach yoga full time and in addition took on the manager role of Angela's Edmonton west studio.

Over a glass (or maybe it was a bottle) of wine, Brandi and Angela decided to open a studio together! Long story and long journey short, Brandi moved to Calgary and opened up Moksha Yoga Calgary North in May 2013. Starting out with only 2 teachers plus herself has mentored and developed dozens of teachers to date. In November 2018 Brandi and Angela created a new brand for their studios to Metta Yoga Calgary to continue to thrive and grow their student and teacher community.

Brandi attributes her work ethic to her very hard working parents who raised her and her siblings on a farm in Southwest Saskatchewan. She wears many hats in the studio, from janitor and manager to teacher and friend, and no matter what hat she is wearing her values and goals are simple – she is driven to impact people's lives through community and yoga. Brandi has completed over 1000hrs of certified yoga trainings throughout her yoga career, and continues her passion to learn all things yoga and develop her own teaching and mentoring skills.